Call Us Now! (305) 563-1376
Frequently asked questions
Lashes
How long do eyelash extensions last?
---
Lash extensions are applied only to your one natural lash at a time, never touching your skin. There is a safe distance between your lash extensions and your skin. There's only a small amount of glue dipped onto the lashes.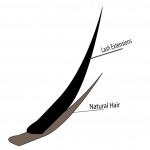 After 1 week, your lash extensions is growing out a little along with your natural lashes.
After two weeks your extensions and natural lashes are grown out a little more than before
This is after 4 weeks of growth. Some lashes will grow faster than others, depending on your natural lash cycle. For classic lashes, it is best to come in between 2-3 weeks and volume lashes at 3-4 weeks. When lashes are outgrown, they can bend or turn because of the weight.
---
Will eyelash extensions damage my own lashes?
---
No, if lashes are applied properly, it will not damage your natural lashes. By following the recommended aftercare, lash lengths and density, one can wear lashes for a very long time. Improper at-home care is also a big contributor to damaging natural lashes. Improper home aftercare;
1. Not cleaning your lashes properly and regularly, causing a build-up of products and dirt, blocking hair follicles. Over time your lashes will get dandruff and bacteria causing your lashes to shed before its cycle.
2. Playing, picking, over brushing, rubbing your lashes, sleeping on your lashes(sleeping on the side or face) all of these will cause your lashes to get pulled out from its roots.
3. Wearing waterproof makeup products, glittery makeup, mascara and eyeliner all contribute to damaging your lashes. All of these products are hard to remove from the extension base. Mascara and eyeliners can stick on to your lashes like sticky gum. Some customers still have junks of makeup on their lashes after 3 days of not wearing any makeup. Trying to clean it all out can be too rough on your lashes causing it to be pulled out, but not cleaning it can cause dirt and bacteria built up.
---
---
Powder Brows
How do I know if I am a good powder brow candidate?
---
Powder brows can be done on any skin type! Here is the list of those who are not a candidate: - Pregnant/Nursing - Undergoing or will underogo chemo/radiation - Has a cosmetic tattoo that is too saturated/dark to cover - Taken Accutane within the last year - Used Retin-A or Retinol within the last 30 days - Taken steriods within the 30 days - Have had a chemical peel within the last 30 days Still not sure? You may email a clear photo of your eyebrows to our technician at beautistrystudio@gmail.com to know if you're a candidate.
---
How long do powder brows last? Do they look natural?
---
Yes powder brows are the most natural looking cosmetic tattoo procedure. The longevity varies per person due to the following: Skin Type Skincare Lifestyle (smoker, working out regularly) The average longevity is 9 months - 1 year. Some less, for some it lasts longer. The color fades gradually by getting lighter in appearance. For example: If your color was a dark brown it will fade into a medium brown. If you decide to never touch them up again they will eventually disappear.
---
Does it hurt?
---
Pain is minimal to none. To help alleviate any discomfort, lidocaine is applied to the area.
---
Do you have different shades and colors?
---
Yes! We have a wide range of tones for each hair color. We have colors for blondes, brunettes, black hair, and even redheads.
---
How long is the session?
---
Your appointment is 2 hours long. However, the actual procedure is roughly 1 and a half hour long. We usually recommend to bring headphones and a comfy sweater to stay relaxed.
---
---
Facials
Which facial is best for me?
---
Here is a breakdown of which facial is best for each skin type. If you need a description on what each facial does, please refer to our "Services" page under "Facials". Microdermabrasion: Oily Skin Congested Skin Combo Skin Dermaplaing: Dry Skin Mature Skin Normal Skin Combo Facial: All skin types, most beneficial for congested skin or those who have not had a facial in a while. Aquagold: Any skin type Microneedling: Skin with the following... Acne scarring Hyperpigmentation Fine lines Wrinkles
---
Will I need any downtime?
---
For most facials, it won't require a downtime. However, more invasive procedures such as microneedling will need 1-2 weeks of downtime. Please follow the aftercare given to you by your esthetician to yield the best results.
---
Will I have a breakout after my facial?
---
If you had a deep cleansing facial it is normal for the skin to detox by expelling any bacteria left in the skin. Therefore, some pimples may emerge which is normal.
---
---
Spray Tans
Will I turn orange?
---
No, all products are certified vegan. Therefore, the naturally derrived ingredients helps the solution develop into a bronze natural tone.
---
How long does the spray tan last?
---
With proper care, it can last up to 10 days.
---
---
Teeth Whitening
Will my teeth and gums be in pain after?
---
Expect little to no sensitivity. It's safe on enamel, protects gums, causes little to no sensitivity, and is a registered natural health product. A very small percentage of people will have minor discomfort in their mouth and this normally dissipates within 10 minutes.
---
Is teeth whitening safe is I have crowns, caps, or veneers?
---
Yes, it is safe for crowns, caps and veneers. Stains will be removed during whitening, returning to their original color.
---
---
Contact Info & Location
How do I book an appointment?
---
You can call or text our salon phone number at (305) 563-1376 or email us beautistrystudio@gmail.com
---
Where are you located?
---
We are located between Palm Springs North and Hialeah Gardens. Our address is 18505 NW 75th PL Hialeah, FL 33015 Unit #107
---
---